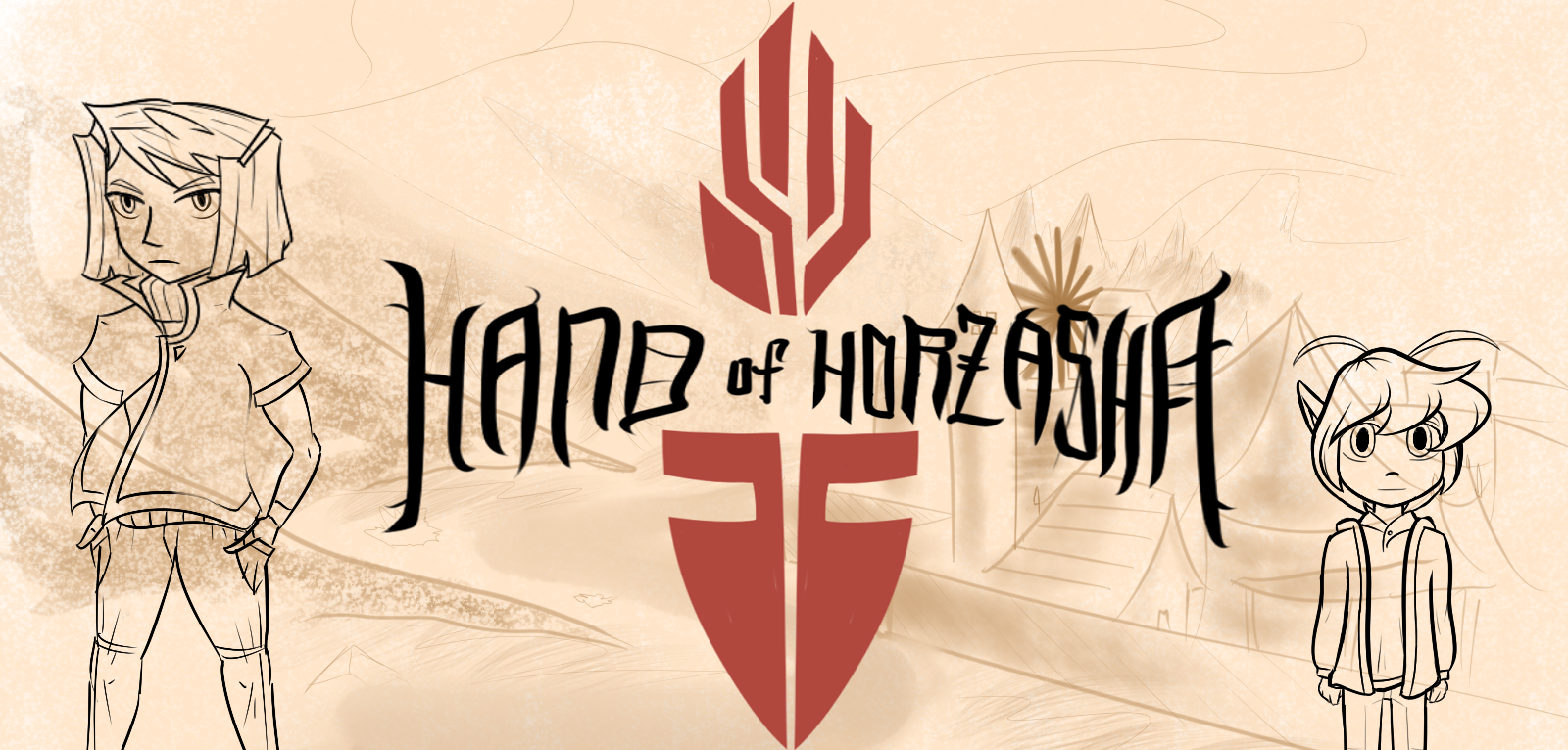 Hand of Horzasha
Over four years of work later, this small team of four has created its first game! I am proud to announce that today, December 17th, 2018, marks the official release of Hand of Horzasha! We poured our hearts and souls into this work and hope that you will enjoy it in its newly completed state.
Hand of Horzasha follows Diala Joulsae, a wayward human lost in a world of monsters. She is stranded in Randall Village, the only town for miles, which is ruled by an imposing race of cat-people known as the Meire. , Diala, along with a rag-tag group of other refugees, begins her new life in this town with the intention of one day finding a way out of the valley. But the wilderness is beset by dangers unknown to humankind and the Meire way of life is taking its toll on her spirits. Everything changes when she meets Aurelia, an orphan who appears in the town square but is ignored by the adults.
Will compassion uproot the despair in Randall Village? Or will her helping hand be pulled further into darkness?

Hand of Horzasha is available now on Itch.io on a name-your-price basis. The game and story were written and drawn by Kevin Keen (@ShinyVacation) with editing and proofreading by Gwendolyn Hicks (@brells_). The music and sound were produced by Miguel Bulteau (@MBulteau) and mixed by Miguel Jesus. Soundtrack available on Bulteau's Bandcamp page. You can support this game either by buying it here or donating at https://ko-fi.com/novaalamak.
I would like to thank everyone who supported us during these four long years: our families, our mutual friends at The Spinning Stream, our Twitter followers, and the many testers who appeared this year to troubleshoot the final product. From the bottom of my heart, thank you for believing in this work. And I, personally, would like to thank my collaborators for their tireless dedication and resilience while working with me. The road was long, but without you, I would not be posting this.
Enjoy the game! Tell us what you think! And don't forget to join us on Discord!
Files
Hand-of-Horzasha-pc.zip
797 MB
Dec 17, 2018
Hand-of-Horzasha-mac.zip
780 MB
Dec 17, 2018